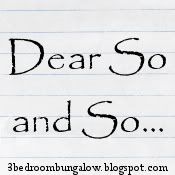 Love me some Dear So and So....here is my first attempt. Go see Kat for more fun.



Dear All the People I read,

You make my day bearable, thanks much.



Squeezes,

Jamie



Dear Tax Season/New Year,

Seriously?! I am not ready (might never be). Could I get a couple more months to recover from the last year?



PLEASE!,

Jamie



Dear Man Cub,

I get that you are 20 months old (today!) but this whole "no" when you mean "yes" thing is making me C-R-A-Z-Y.



Me: "MC do you want your milk?"

MC: "No."

Me: "Okay, Mama is going to put it away."

MC: "Noooooooooo."

Me: "Do you want it?"

MC: "No."

Me: "I am putting it bye-bye."

MC: "Milk, MILK!, MIIILLLLLLK!"



Dude,

Mama



Dear Snow,

You make the all of the transplants (and some of the locals) freak out and forget how to drive. Could you regulate yourself to the weekend when I don't HAVE to be out with the crazies?



Appreciated,

Jamie



That is all, have a great weekend y'all.